Robert Handler's Profile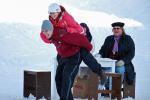 Member for:


7 years 11 months

Institution:


Michigan Technological University
Biography
I work at Michigan Tech, as the Operations Manager for the Michigan Tech Sustainable Futures Institute. We organize sustainability-themed research and education projects that involve faculty and students from all across campus to look at issues related to energy, materials/manufacturing, international development, and complex systems. Before coming to Michigan Tech, I went to graduate school at the University of Iowa, where I earned a PhD in Environmental Engineering.
---
Robert's research projects
HEET: Houghton Energy Efficiency Team 2016 Home Weatherization Blitz
The Houghton Energy Efficiency Team is gearing up for a huge home weatherization campaign to help low-income residents of Houghton County save energy and money. We have a large team of willing volunteers - now all we need is money for supplies to seal and insulate 150 homes, and your help will make this local project a success!
Aquaponics for Research and Education at Michigan Technological University
Aquaponics is the integration of aquaculture (fish farming) with hydroponics (growing plants without soil) in a recirculating, mutually-supporting system. The Michigan Tech community benefits from the on-campus demonstration of a unique engineered system, and several educational and outreach efforts make use of the system. We will continue and expand on this project with Superior Ideas funding.