The Superior Ideas team is talented and has a wide array of backgrounds. Take a look below to learn a bit more about us.
Natasha Chopp
Hi! I am Natasha, and I am the Director of Research Opportunities in the Vice President for Research Office at Michigan Technological University. I received my Bachelor's degree in Business Administration from Michigan Tech in 2006 and my Master of Business Administration from Michigan Tech in 2015. I am currently working on my Master's in Data Science, and I expect to graduate in the spring of 2017. I was the project leader for Superior Ideas, which I now manage.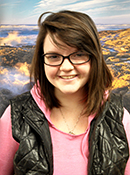 Alice Markham
My name is Alice Markham, and I am a fourth year Management Information Systems major at Michigan Tech. I joined Superior Ideas in January of 2014 as a Student Marketing Coordinator and this has been an excellent opportunity for me throughout my college education.
Andrea Zubke
Hi! My name is Andrea Zubke. I am pursuing my second year as an Engineering Management and Marketing student at Michigan Tech. I joined Superior Ideas as Research Office Specialist in January 2017. I am also fortunate enough to be a member of the Women's Soccer team here at Tech. I look forward to gaining the experience while still furthering my education in Houghton!
Quentin Franke
I dealt with the HTML, CSS, and Drupal aspects of Superior Ideas. I've been working with websites for eight years and have dealt with nearly every aspect that comes along with them. I'm from Colorado and enjoy the outdoors—mostly the beach, but in the winter months, I snowboard a lot. You can normally find me at my desk or enjoying the outdoors. Check out my website.
Alex Hughes
I was part of the development team that created Superior Ideas from scratch. I worked primarily on the data side of the site, which mainly consisted of the database architecture and development of the code that runs Superior Ideas. We worked hard and overcame obstacles to build the ever-expanding, always-evolving crowdfunding platform that is Superior Ideas.