Guy Meadows's Profile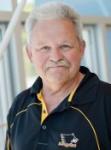 Member for:


8 years 7 months

Institution:


Michigan Technological University
Biography
Upon graduation from Purdue University in 1977, Guy Meadows joined the faculty of the University of Michigan, College of Engineering, where he served as Professor of Physical Oceanography for 35 years. During his tenure, he served the College and University as Director of the Ocean Engineering Laboratory, Director of the Cooperative Institute for Limnology and Ecosystems Research (NOAA, Joint Institute), Director of the Marine Hydrodynamics Laboratories and founding Academic Director of the M-STEM Academy. He joined Michigan Tech in June of 2012, to help establish the new Great Lakes Research Center. His primary goal, to blend scientific understanding and technological advancements into environmentally sound engineering solutions for the marine environment, through teaching, research and service.His teaching reaches beyond the University setting to less formal environments, and includes five nationally televised documentaries for the History and Discovery Channels. His primary research interests are in geophysical fluid dynamics with emphasis on environmental forecasting and full-scale, Great Lakes and coastal ocean experimental hydrodynamics. In this arena, he has influenced policy and explored societal impacts of environmental forecasting for coastal management, recreational health and safety, and regional climate change.
---
Guy's research projects
Great Lakes Research Center - Cabled Observatory
This cabled observatory gives us an underwater interface that can be used year-round and is allowing us to study under a cover of ice. Our goal is to build a bigger observatory and monitor all of the Great Lakes.
---
Projects that Guy has supported