Leo C. Ureel II's Profile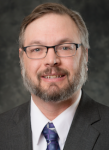 Biography
Leo C. Ureel II is a Lecturer in Computer Science at Michigan Technological University. He worked as a software developer for Fortune 500 companies Coltec and Motorola and as a software researcher at The Institute for the Learning Sciences and Northwestern University. He was co-founder of Redshift Software, a game tools developer and has designed video games for CouchWorld Games.

His research interests focus on understanding how we can use Intelligent Learning Environments to engage students in communication during the learning process. This research has taken him on a journey into Artificial Intelligence, Cognitive Science, and Software Engineering.

Current projects include: development of WebTA, a system that provides automated feedback to students learning how to program. Leo participates in two combined research/outreach programs: Breaking Digital Barriers, which helps adults use computers, and Copper Country Coders, which helps students in grades 6-12 learn to program computers. Leo is also a Program Partner for the National Center for Women & Technology (NCWIT) AspireIT Program.
---
Leo C.'s research projects
CS4All: Bringing Computer Science to K-12 Students
Computer Science is essential for every 21st century student, yet K-12 teachers have little support for getting up to speed in this field. Our program brings the teaching expertise of Michigan Tech's Computer Science Department to students in the Copper Country, and it nurtures a community of teachers helping one another bring coding experience to their classrooms.