Seth Thurman's Profile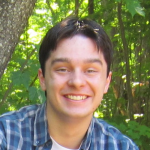 Member for:


2 months 3 weeks

Institution:


Michigan Technological University
Biography
Seth is a 4th Year Robotics Engineering student at Michigan Technological University. He competed in robotics at the National Robotics Challenge of 2019 during his senior year of Highschool where he discovered his passion for robotics. During the 2022-2023 school year, he also participated with the Astro-Huskies Lunabotics team on the Multiplanetary Innovation Enterprise at MTU as an Excavation team member. For the coming 2023-2024 school year he has taken the leadership position of Lead Systems Engineer.
---
Seth's research projects
Multiplanetary Innovation Enterprise Astro-Huskies Rover for NASA Lunabotics
The Astro-Huskies Team are participating in the NASA Lunabotics Competition in person at the Kennedy Space Center for the third time in-person. The competition requires designing, building, testing, and competing an autonomous construction robot that can travel through an obstacle area. Please help support our project today!