Ralph Larson's Profile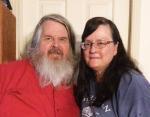 Member for:


1 year 3 months

Institution:


None or Other
Biography
I was part of the class of 1981. My wife Julie was also a student at Tech (she would finish her degree at another school) and is now deceased. We were both ardent fans of science fiction and space exploration. We were both metallurgists by practice.

I would prefer donations to be noted as coming from both of us, and to avoid confusion to note that we are the "Julie and Ralph Larson of Olivet" (yes there is another couple).

I might add more later.
---
Projects that Ralph has supported
Get Stratus to Space!
Stratus is a satellite mission being developed by students of the Michigan Tech Aerospace Enterprise. The satellite has a manifested launch through the NASA CubeSat Launch Initiative (CSLI). The build schedule has been delayed due to issues encountered during hardware assembly. The program is now seeking to replace malfunctioning hardware such that the spacecraft will fly in an operable state.