Jay Meldrum's Profile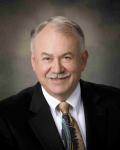 Biography
Jay S. Meldrum is the Executive Director of Michigan Tech's Keweenaw Research Center (KRC)and and is the Executive Director of Sustainability for the University. KRC is a soft-money research arm of Michigan Tech University and employs approximately 30 scientists and engineers to provide a wide range of applied research services to clients in government and industry. Research expenditures of KRC are approximately $8 MM annually.
The U.S. Army Tank-automotive and Armaments Command (TACOM) is the Keweenaw Research Center's primary sponsor, with several active R&D contracts now under way. Projects involve vehicle mobility studies in rough terrains and snow on the Center's 900 acre proving grounds.
Meldrum is an active member of the Society of Automotive Engineers (SAE) and has served on several committees and boards including the The Board of Directors (2014-2016). Meldrum is the lead organizer for the SAE Clean Snowmobile Challenge, a Collegiate Design Series Competition that promotes the redesign of snowmobiles for lower emissions, lower noise output, and better fuel economy. This week-long event brings hundreds of volunteers and competitors to the Keweenaw and is a big boost to the local economy. Meldrum is the faculty advisor for the Alternative Energy Enterprise which covers projects including solar panels, wind turbines, geothermal heat pumps, fuel cells, and bio-fuels.
Meldrum earned an MS in Mechanical Engineering from the University of Michigan and a BS in Mechanical Engineering from General Motors Institute (now Kettering University).
---
Jay's research projects
---
Projects that Jay has supported