Charles Wallace's Profile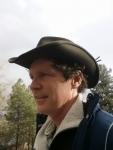 Biography
Charles Wallace is an Associate Professor of Computer Science at Michigan Tech. His research focuses on how humans can better understand the software they build and use. He is currently working on educational programs for K-12 students, undergraduate Computer Science students, and senior citizens, and he is studying communication and teamwork patterns in software development settings.
---
Charles's research projects
CS4All: Bringing Computer Science to K-12 Students
Computer Science is essential for every 21st century student, yet K-12 teachers have little support for getting up to speed in this field. Our program brings the teaching expertise of Michigan Tech's Computer Science Department to students in the Copper Country, and it nurtures a community of teachers helping one another bring coding experience to their classrooms.
---
Projects that Charles has supported
Restoration of Coaster Brook Trout and Their Endangered River
Lake Superior is home to an at-risk form of migratory brook trout (called coasters), some of which spawn in local rivers. These fish were once common throughout the lake, but there is now only one verified breeding population of coasters along the south shore. These fishes' primary spawning sites are being filled in by sedimentation, but we hope to save the habitat—and boost the population to healthy levels.