Kristin Brzeski's Profile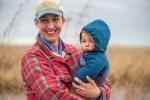 Biography
Dr. Kristin Brzeski is an Assistant Professor in the College of Forest Resources and Environmental Science at Michigan Technological University, where her lab's research focuses on wildlife genetics, conservation, and management. Dr. Brzeski has been conducting red wolf conservation science since her PhD and is co-leading the initiative to understand the genetic ancestry and ecology of the unique Gulf Coast canid population. In addition to her canid research, Dr. Brzeski is a co-founder of Biodiversity Initiative, a NGO that works to conserve biodiversity. Currently, her team is working with local conservation practitioners to monitor and protect endemic Central Africa wildlife.
---
Kristin's research projects
Discovering the secrets of Gulf Coast canids and how they may save the endangered red wolf
The Gulf Coast Canine Project's goals are to understand the genetic ancestry of the unique wild canines persisting along the Gulf Coast of the United States and study how variable amounts of red wolf ancestry affects an individual canid's morphology and behavior. We strive to develop regional pride and interest in our unique Gulf Coast canines through outreach and good stewardship.